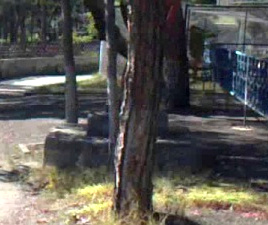 TBILISI, DFWatch–One man was killed by a white tiger in Tbilisi on Wednesday. The animal attacked the man at Laguna Vere, a few hundred meters from Tbilisi Zoo, which was destroyed in a flood June 14.
A witness told DF Watch that a tiger attacked a person, who was seriously injured.
The victim was taken to hospital in a severe condition and the Ministry of Internal Affairs later said that he had died.
After a brief hunt by special forces, the animal, a white tiger, was caught and surrounded as attempts were made to tranquilize it.
The tiger was later put down, MIA press spokesperson Nino Giorgobiani confirmed.
The animal had been hiding in a former textile factory where there were seven employees. The tiger attacked one of the men in the neck.
The victim's colleagues started making noise and broke a window, after which the tiger escaped.
The mayor, interior minister and head of Georgia's crisis management council came to the site.
Zurab Gurielidze, director of Tbilisi Zoo, said live on GDS TV that all the lions in his zoo are dead, and that the reports about an attack might be a lie.
Many people managed to escape from the site. Special forces from the police blocked off the area as they hunted for the animal.
Neither the rescue service nor the animal monitoring service had initially received information about the apparent attack, but dispatched staff to the site.
More than half of zoo's animals escaped or died in the flood three days ago. Authorities claimed yesterday that all escaped animals were either dead or returned to the zoo.
Head of the crisis management council, Mindia Janelidze, said they relied on information from the zoo when they said that all the animals were either caught or dead.
But yesterday evening, the zoo's management issued a statement saying that they were still looking for one tiger, one bear and one hyena.