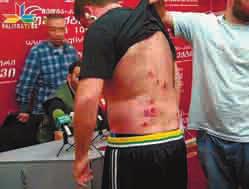 TBILISI, DFWatch – Tbilisi City Court will today announce its decision about compensation for the journalists who were beaten and shot by police on May 26. Journalist Beka Sivsivadze (photo) was hit by almost 40 rubber bullets, but is not part of the claim.
Three journalists and four media units October 4 went to court to demand compensation for damages they suffered to themselves and their equipment at the hands of police, during a violent police raid against a peaceful demonstration May 26.
During proceedings the Ministry of Internal Affairs accepted responsibility, and December 13 offered to pay compensation for the health damages, some of it from rubber bullets, but refused to cover parts of the claim which deals with lost and destroyed equipment, due to the lack of evidence.