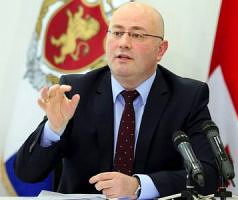 TBILISI, DFWatch–Georgia's defense minister says a crime may have been committed when two soldiers disappeared while diving off the Black Sea coast eight days ago. Their bodies have still not been found.
Levan Izoria said Tuesday that there are possible signs of a crime in the case and that several people might be held responsible.
The families of the missing soldiers, who are still waiting for their bodies to be found in Gonio, on the Black Sea coast, accuse the Defense Ministry of violating safety rules. The father of Iago Sharadze, one of the soldiers, says that his son died because the instruction rules were violated.
Vladimer Sharadze says the instructor must have been responsible because he was monitoring the exercise. He thinks the instructor shouldn't have let the soldiers dive to the depth where the exercise took place.
"He brought them there, let them out in the sea like fingerlings, got back to the shore and was looking […] from the shore. He was waiting [to see] if the boys would bring pebbles from the bottom of the sea, to be sure that they had really dived," Sharadze told Rustavi 2.
Two soldiers, Corporal Iago Sharadze (26) and private Giorgi Nanitashvili (24), were participating in a planned military exercise in Gonio on August 16, when they dived but couldn't make it back to the surface.
An investigation has been launched under article 116 of the Criminal Code, about causing the death of two or more people through negligence, a violation which may be punished with three to five years in jail.