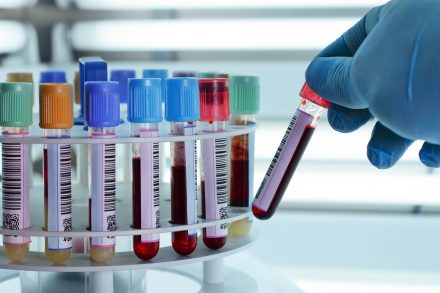 "My elder daughter has thalassemia. When doctors diagnosed her, we learned that it is a genetic disease and mostly it happens with children when they are born as a result of cousin-marriages. I'm married with my cousin. If I were aware of the risk, I would not have married him; and would have saved my daughter from this illness," Saadat Gasanova from Kizilajlo village, Marneuli municipality said.
56-years-old Sanubar Mamadova also married her relative in Kizilajlo. One of her daughters married her cousin as well. "Neither my children nor my grandchildren have health problems. Two grandchildren have anemia but many children have also this problem. Marriages between close relatives was common in our community and nobody protested it. Nobody had health problems for the marriage and it may not cause problems now either. Any couple, who are not relatives, may also have a child with health problems," Sanubar said.
3, 5% of the Georgian population is carry thalassemia gene. Doctors say the disease is inherited and is mostly common among ethnic Azerbaijani population. The reason is so-called 'cousin marriages'.
During the so-called 'cousin-marriage' there is huge risk that both parents are carriers of thalassemia recessive gene and their child will have genetic disease.
The cousin-marriage is rife among Muslim population in the countries of Near East and Northern Africa: Koran does not prohibit cousin marriages. For example, 40% of Egyptian population is married with their cousins. There is no similar statistic in Georgia and nobody knows how many cousin-marriages are registered in Georgia.
Leyla Mamedova, chairwoman at the Union of Georgian Azerbaijani Youth, said one of the main reasons of cousin-marriages is that they know and trust each other; they do not want to "bring" strangers to their families. There is another reason: many families do not want to leave their property to the people outside the relatives' circle.
"When close relatives get married, they are not aware that their children might get sick with genetic disease. The informed person, who cares about the future and children's health, will not make such decision," Leyla Mamedova said.
Paata Kholuashvili, medical doctor at the Marneuli hospital, said it is very important that the couple took medical tests before marriage. "Children born from cousin-marriages may have the diseases like thalassemia, microcephaly… In the epoch of internet people must have more information about the possible follow-up risks of cousin marriages and now their number has decreased. Often we inform future couples that marriages between blood relatives are not advised. It would be good if the couple takes medical tests before marriage."
Unlike him, Leyla Mamadova thinks the low awareness of the Azerbaijani population is the reason of the risks originated from the cousin-marriages and the state needs to take steps in this direction.
Nurana Mammad  
The article was prepared in the frame of the project implemented by Human Rights House Tbilisi with financial support of the Embassy of the Kingdom of Netherlands in Georgia and National Endowment for Democracy (NED). HRHT bears sole responsibility for the content of the article. The article does not necessarily reflect the views of the donors.