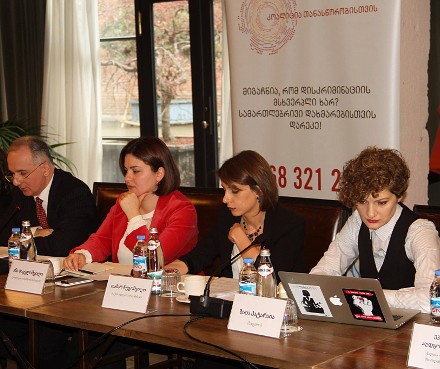 TBILISI, DFWatch–In 2014, Georgia signed an international convention to end violence against women and impunity of perpetrators, but two years later the country has still not ratified it.
After Justice Minister Thea Tsulukiani had signed the Istanbul Convention on June 19, 2014, and prepared a bill to ratify it, the issue was brought to the public's attention through a nation-wide series of public hearings the following year, but the initiative has since petered out.
Non-governmental organizations (NGOs) met in Tbilisi on Monday to revive the effort to have the convention ratified by Georgia. The goal of the conference was to assure that ratifying the convention can be one of the major mechanisms to help preventing violence against women.
Their call comes on the background of a recent report by ombudsman Ucha Nanuashvili that in some of the thirteen murders of women so far this year, the police was alerted but failed to intervene in time. Nanuashvili called on authorities to do more to combat domestic violence.
The Istanbul Convention, which has been ratified by 22 countries in the Council of Europe, takes particularly aim of combating impunity for perpetrators due to inefficient law enforcement in cases of family violence.
Tamar Dekanosidze from Young Georgian Lawyers' Association said she believes that the Istanbul Convention can offer an opportunity to transform the legislation into an instrument for changing the 'patriarchal structure' in the country, historical pressure and violence against women as well as discrimination.
The conference, which was organized by the Coalition for Equality, was also attended by representatives of the government.
Deputy Minister of Justice Gocha Lortkipanidze spoke about the changes which the legislative amendments can bring: better protection for women against violence within the family and in society. It will also strengthen the mechanisms for assisting women who have been victims of violence.
The bill would amend the Criminal Code and establish a new crime of being stalked, which will be punished with jail for up to two years. The bill would also criminalize forced circumcision and female genital mutilation.