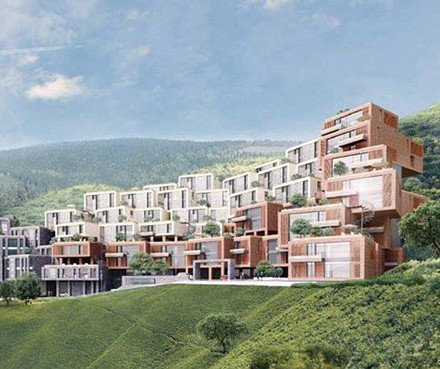 TBILISI, DFWatch–Tbilisi City Council on Wednesday approved a controversial construction project in the old part of the capital.
The decision is bound to further enrage activists, who have been campaigning against the project.
The plans for Mirza Shafi Street will create a background for the city's historical Abanotubani district.
But even with council approval, the project still has to go through several stages before realization, and this includes getting a building permit from Tbilisi City Hall.
Opponents of the project say there hasn't been a public consultation process, and experts haven't been shown the plans before a decision was made.
They asked the city council to hold a ballot about postponing the project until consultations have been held, but the request was ignored and a majority of deputies voted in favor of going ahead with the construction.
Those who were against were council members from the National Movement, and the Republican Party, a member of the ruling coalition, as well as Aleko Elisashvili, an independent council member who was formerly head of a pressure group for saving the authenticity of Tbilisi.
The project plan was slightly adjusted in the version that was passed. The company behind it, Capital Partners Of Georgia, will invest USD 70 million. A hotel will be built on Mirza Shafi. Construction will end in two years.
The project covers about 10,000 square meters.
"This is a day of shame for the City Council," Aleko Elisashvili said after the ballot. "I have been almost begging for the majority to postpone this issue, but they supported the investor, who in 2009 devastated the whole street back in 2009 without permission, Mirza Shafi [Street] number 16, which had status as cultural heritage, which is a criminal offense."
The case is still under investigation by the Prosecutor General's Office, he added.
Tbilisi Mayor Davit Narmania said Friday that the Mirza Shafi project will make Tbilisi more 'visually interesting'.
He claimed that the process has been transparent and open, and that there have been discussions, and the result will be clear in two to three years.
Elisashvili wrote in a response on his Facebook that the world's the most authoritative organization, UNESCO, has many times recognized Tbilisi as visually and historically interesting.
"New glass constructions do not make the city interesting, but distorts it and destroys its recognized authenticity," he wrote.