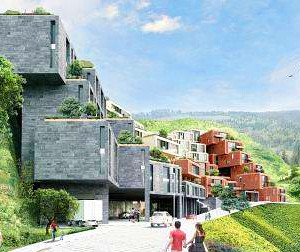 TBILISI, DFWatch–A massive construction project in the old part of Tbilisi has enraged the city's inhabitants. This time, it is a construction project on Mirza Shafi Street, right behind Abanotubani, one of the oldest parts of the capital.
There was a tender announced for projects in this area. Architect company Demark was named the winner a few days ago. Nino Ghoghoberidze, head of the Tbilisi Architect Service, said after certain corrections, the winner project will be implemented on Mirza Shafi Street.
"The architectural solution is correct," she said, adding that the building has to be combined with the relief of the area and the project satisfies this condition.
But many disagree. Tiflis Hamkari, an organization working on issues like the appearance and authenticity of the capital, is strongly against the project and are planning to protests against it.
Tsira Elisashvili, a member of the group, says the project ignores the landscape and architectural peculiarities of old Tbilisi, which is only some of the problems this project may cause, as for example the area where the project is to be carried out is mostly filled with buildings no higher than two or three floors, while the project aims to construct 8-13 floor buildings, making it the dominant object in this area.
Tbilisi City Hall tried to reassure the public that the project plan is not finally decided yet and may still undergo adjustments in order to avoid it becoming a 'dominant object.' But Tiflis Hamkari plans a lawsuit against the construction project.
In a recent statement, Tiflis Hamkari recalled that the destruction of Mirza Shafi Street started in December 2008, when buildings were demolished, including a house which had cultural heritage status.