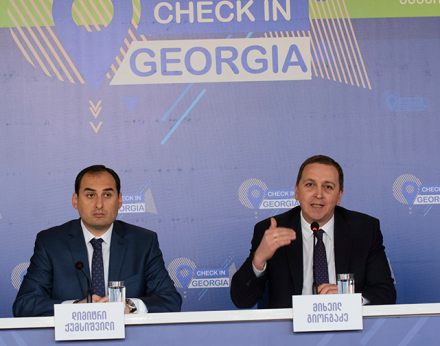 TBILISI, DFWatch–A nationwide music festival titled Check-in-Georgia will kick off in Tbilisi on April 24. The 35 concerts and festivals around the country will feature Robbie Williams, Maroon 5 and José Carreras.
The festival, which will last until the end of the year, includes a series of events in Tbilisi and other towns and cities. It is facilitated by the Culture Development Investment Fund.
The first concert will be Eros Ramazzotti at Sports Palace in Tbilisi on April 24. May 27, Robbie Williams will play Tbilisi Dinamo stadium. Maroon 5 will perform in Batumi, on the Black Sea Coast, on June 7. June 18, José Carreras will perform in Kutaisi in western Georgia.
Local musicians will also perform at concerts in different regions of Georgia.
"It is important that the events aren't organized only in the capital but in at least 19 cities," Minister of Culture Mikheil Giorgadze said Thursday as he presented the plans together with the vice prime minister, the minister of economy and the head of the Tourism Administration.
The government offers producers a concert square in Batumi free of charge. The square will be equipped with modern concert hardware, lighting, stage and security service, Giorgadze explained.
The government's reserve fund allocated 29 million laris to for the project. Ticket prices will start from 20-30 laris to maximum 90 laris.
Giorgadze said Check-in-Tbilisi will continue in the future.