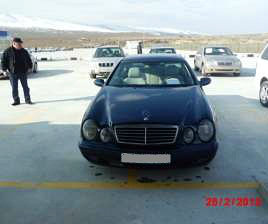 TBILISI, DFWatch–Azerbaijan has postponed the introduction of new restrictions on cars entering from Georgia until August 16.
Georgian officials say the reason is a need to inform Georgians about the new rules.
Azerbaijan decided in January, 2014, to restrict the entering of cars which do not comply with Euro 4 standards.
The new regulation came into force on August 1. Georgian cars coming to Azerbaijan on Friday had problems at the border.
Nino Giorgobiani, spokesperson for the Interior Ministry told DF Watch there were most problems on a road through Lagodekhi, and most of the cars using it are taxis.
Cars that don't comply with the new standards are not let through by Azerbaijani border guards.
But at the end of the day the problem was solved, because the enforcement of the new rules was postponed for two weeks, when it comes to cars entering Azerbaijan from Georgia.
The restriction at the border caused concern mostly because there was a scuffle between Georgian and Azeri football supporters in Baku on Thursday. The reason was that Georgian fans displayed a map which showed Georgia with expanded territory including areas of Azerbaijan. The border from Lagodekhi is close to this territory.
Inga Kvinikadze, Deputy Director of Foreign Ministry's consular department, said on Friday that the new rules have no connection to what happened during the match on Thursday.
She said that the enforcement of the new rules was postponed until August 16 at the request of the Georgian government.
Kikvadze says that if a car doesn't comply with the standards, the owner can pay a deposit and then cross the border, or have a guarantee from an Azerbaijani citizen that he is coming as a guest and will leave the country soon. Otherwise, a car which doesn't comply with Euro 4 standards won't be able to enter into Azerbaijan from August 16.
Kikvadze said the decision was made in January 2014 and came into force on Friday, but since the Georgian population weren't informed, it was postponed after consultations with Azerbaijan.
She added that the Georgian government didn't know about the new restrictions; that's why people haven't been informed.
"The law is a domestic state document, which is published inside the state. It would have been good if we knew and had been notified about it," Kikvidze said, adding that there are such restrictions in many other countries, including Turkey.