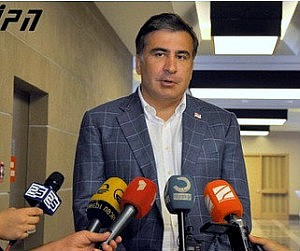 TBILISI, DFWatch–Former Georgian president and ex-governor of Odessa Mikheil Saakashvili thinks an 'anti-oligarchy revolution' is 'imminent' in Georgia.
"This post-Soviet quagmire will be swept away, because it is contrary to human instincts," Saakashvili said during an interview with Russian opposition leaning Dozhd TV.
The ex-president said he will only return to his country of origin after the current government has been deposed.
"This is really a new medieval system […] The new system has formed where the results of the elections are known well in advance."
Saakashvili said that anti-oligarchy revolutions are imminent not only in Georgia, but also in Ukraine, Russia, Moldova and other countries.
The leader of the Rose Revolution in 2003 said he doesn't know whether he will get involved in politics again after returning to Georgia, but that it depend on the people's will.
"I already have a status in Georgia, which is higher than the status of a politician," Saakashvili said. "I am the creator of this state."