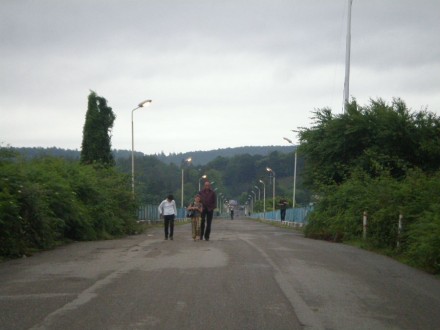 GALI, DWatch–Abkhazia plans to begin charging import tax at a checkpoint with Georgia proper and impose stricter regulations on what goods are allowed to bring across.
The plans were aired by the head of Abkhazia's de facto customs service, Beslan Tsvinaria, in the wake of a similar decision by the authorities of Georgia's other breakaway republic, South Ossetia.
"If we are a state, there should be a working customs office at the Enguri border," Tsvinaria said.
He also demanded to expand the list of goods that it should be prohibited to bring from Zugdidi and charge tax on remaining produce. Currently it is forbidden to bring citrus, alcohol and tobacco.
"Nobody knows how much goods cross the border, it is not registered. The border [facilities] should be equipped accordingly," Tsvinaria said.
He said he has asked the de facto president Raul Khajimba administration to open a customs control and hopes to see the initiative come to fruition next year.
A month and a half ago, the other breakaway region, South Ossetia, announced its plans to impose customs tax at a checkpoint near Akhalgori.
Most of the agricultural products available in Abkhazia and South Ossetia are brought in from Georgia proper. Tens of thousands of residents in Abkhazia's southern Gali district are dependant on products from Zugdidi, across the Enguri river. Gali residents, most of whom are ethnic Georgians, suspect that the restrictions will cost them dearly.
Currently, there is no "official" tax charged at the Enguri checkpoint, but it is necessary to pay bribes to Abkhaz customs officers. People fear that after the introduction of official customs tax, they will pay double – both bribes and "official" tax.
It is not a new idea by Abkhazian de facto authorities to establish its own customs regime. In 2011, then de facto president Alexander Ankvab called for charging customs tax on goods imported from Georgia.