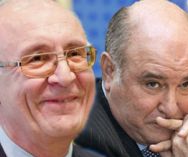 TBILISI, DFWatch–The Georgian and Russian negotiators Zurab Abashidze and Gregory Karasin have postponed their planned meeting until March 14.
Abashidze, the Georgian Prime Minister's Special Representative for Russian Relations and Karasin, Russia's Deputy Foreign Minister, should have met at March 4 or 5.
Abashidze told Interpressnews that Karasin asked him to postpone the meeting in Prague for March 14.
This will be the sixth meeting of the two. The first one took place in December 2012, only two months after the Georgian Dream coalition was voted into office on a promise to mend relations with Russia.