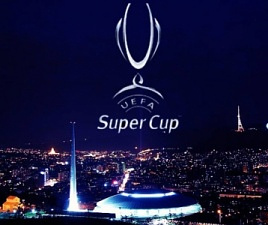 TBILISI, DFWatch–80% of tickets for the August 11 UEFA Super Cup match between Barcelona and Sevillia in Tbilisi will be sold exclusively to Georgians. Only 6,000 tickets will be earmarked for visiting football fans from abroad.
Eka Eloshvili, spokesperson for Georgian Football Federation (GFF), told journalists on Thursday that tickets for foreigners and for Georgian fans will be sold separately, but so far it is unclear when the ticket sale will begin.
24,000 of the available tickets will be set apart for Georgians exclusively. Most likely, she said, Georgians will be able to buy tickets on biletebi.ge again, a website which crashed minutes after it went online early morning on June 22. Since then, GFF has been working with UEFA to solve the problems.
Eloshvili said UEFA has decided to sell tickets separately, and on Friday morning GFF and biletebi.ge have to write UEFA and detail the strategy for how the sale will be done technically.
After all the questions about the problems with ticket sales are solved, tickets will again be on sale, but GFF is unable to state the approximate time that will happen.
"It is of no interest to me how those tickets will be sold in other countries. First of all, our fans must get the tickets," GFF's President Zviad Sichinava said in an interview with Imedi TV later in the evening. He added that biletebi.ge has already worked out a strategy for selling tickets.
It is unfortunate the UEFA chose biletebi.ge to sell the tickets and trusted the company, he continued, and recalled recent experiences GFF has had with a match against Germany, which also was popular, and that time they were able to sell the tickets without problems.