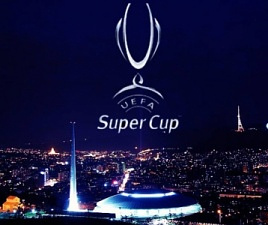 TBILISI, DFWatch–The website biletebi.ge, which is responsible for selling tickets for UEFA Super Cup 2015, went down Monday morning.
Administrators claim they have been the target of a cyber attack and that enormous amounts of users have tried to enter the site at the same time.
In the morning on Monday, users complained about being unable to buy tickets. The website has a short note that it is unavailable: "System is overloaded. Please try again later."
FC Barcelona will meet Sevilla FC at the Dinamo Arena in Tbilisi on 11 August. It was announced months ago today that the website was to begin selling tickets today, with a promise that nothing could create problems.
Now the administrators of the website claim they are working to solve the problem and will try to switch to a different site. They also say UEFA has warned them about possible difficulties during ticket sales.
"There are more than ten thousand transactions per second, probably only Amazon servers are able to bear it," one of the site's owners told journalists.
Lasha Dvalishvili, head of the UEFA organizing committee, said that biletebi.ge was selected by UEFA to sell tickets because of its experience, and the football federation is not connected to the problems.
Biletebi.ge received 45,000 euros from UEFA for handling ticket sales.
It is still unknown when the website will be up and running and users complain that they are being forced to sit the whole day pressing 'reload' in vain.
Many people outside of Georgia are also trying to buy tickets.
The sale of tickets is allowed only through biletebi.ge, and is prohibited at stadiums and elsewhere, in order to avoid black market tickets.
People from Armenia, Azerbaijan, Turkey, Ukraine and many other countries are writing complaints on the Facebook page of biletebi.ge