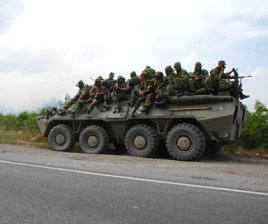 TBILISI, DFWatch–As Georgia marked eight years since the war with Russia, figures show that over two thousand civilians have been detained on the provisional borders that were drawn after the end of that war.
From 2009 to 2015, the number of people detained for violating the de facto borders was 2,117, figures from the Georgian government indicate. 1,416 of them were detained on the border with Abkhazia while 701 of them were detained near South Ossetia.
After the five day war, which claimed hundreds of lives and drove tens of thousand from their homes, Russia took military control over both breakaway regions, by Georgia considered an occupation, and enforced the old borders from the Soviet Union, called the administrative boundary lines.
Hundreds get detained each year for being on the wrong side of these boundary lines, which are disputed by the Georgian side, sometimes while standing on their own property or looking after livestock. Russian soldiers continue to install barbed wire and border signs, while people who live in the area keep getting detained and released after paying a fine of about USD 30.
The events eight years ago were remembered at a traditional ceremony on the Mukhatgverdi cemetery north of Tbilisi, with many politicians from the government and opposition participating. There were also commemorations in the village Shindisi and in the town Gori, as a way to pay tribute to people who died during the war in August of 2008.
Four employees of the Prison Ministry were awarded posthumously by Prison Minister Kakha Kakhishvili. Riot police officers Gocha Iluridze, Ilia Shaverdashvili, Giorgi Abiatari and Besik Mamiauri, who died in the 2008 war, were awarded the first rank medal of defending law and honor; the ministry's highest award. The medals were received by the families of the deceased.
Late at night on August 7, 2008, war broke out as the Georgian army attacked Tskhinvali, after growing tension for several weeks. Russia officially engaged in war on August 8. Georgia claims that Russia had its army and military equipment in place earlier. A cease-fire agreement ended the the war after five days, by which time Russia had pushed deep into the Georgian heartland, occupying Gori and a large swath of the western Samegrelo region. A breakdown in security continued to threaten the safety of civilians in a buffer zone which lasted for several weeks, until Russian troops withdrew to new de facto borders.
By that time, Georgia had lost control over Akhalgori in South Ossetia and Kodori Valley in Abkhazia; areas that were under Tbilisi before the 2008 war. More than 220 people died, while more than 1,700 were injured. According to the Defense Ministry, 169 military personnel are considered dead.