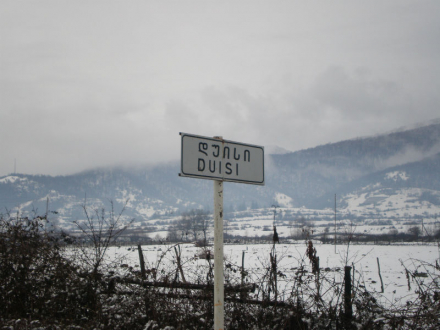 TBILISI, DFWatch–A man from Pankisi valley in Georgia have been killed in Syria. Ruslan Tokhosashvili, 35, was the 33rd Kist militant from Pankisi killed in Syria, local-based radio station, Radioway, reports.
Tokhosashvili reportedly left his native village of Birkiani for Syria in 2014 and joined the terror group Islamic State. Birkiani is the home village of Tarkhan Batirashvili, better known as Abu Omar al-Shishani, former chief commander of ISIS forces in Syria who was killed in 2016. Tokhosashvili was said to be a close ally of Batirashvili.
Tokhosashvili's wife and children live reportedly in Strasbourg, France. The details of his death are not clear.
Tokhosashvili's brothers Kakha and Bekhan (Beka) were also killed in Syria in 2018 and 2015, respectively. It was reported that Kakha Tokhosashvili was killed during aerial bombardment with his wife and eight children.
The exact number of Georgian nationals fighting in Syria is not clear, but estimates vary between 100 and 300. Most of them are Kists, a small subgroup of Chechens who are natives of Pankisi Gorge, eastern Georgia.
Also several men from other parts of Georgia have reported been killed fighting in the Middle East, including five ethnic Azerbaijani from Kvemo Kartli and four ethnic Georgians from Ajara, western Georgia, Tbilisi-based expert Mamuka Areshidze said, as quoted by Rezonansi newspaper. He is the head of think tank Caucasus Strategic Studies Center.
Areshidze said the flow of Georgian militants to the Middle East has dwindled sharply as ISIS has suffered major defeats at the hands of Western-backed forces and the Syrian army. Some of them have given up arms and moved to other countries, like Saudi Arabia and other predominantly Islamic states.