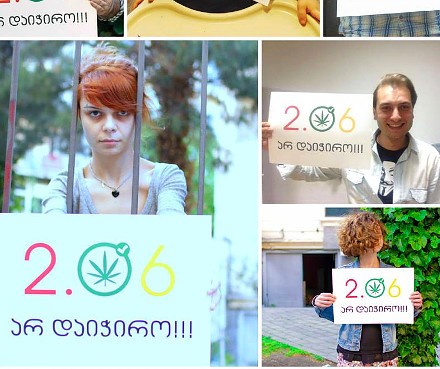 TBILISI, DFWatch–A movement demanding to decriminalize marijuana in Georgia plans to rally on June 2, in front of the government office.
Campaigners have two demands: to stop jailing people for personal use of marijuana and to stop the use of forced random drug tests.
"We want the government to amend legislation so that people won't be prosecuted under the Criminal Code for using cannabis, and products derived from [cannabis], for personal use and for keeping a little amount of it," members of the Movement '2 Ivnisi' (June 2) say.
This is the third legalize marijuana rally in Tbilisi.
"We also want to halt shameful, incompatible with Georgian constitution and civilized world practice – to randomly select citizens, detain them and force drug tests."
The government has prepared a draft bill aiming to liberalize drug crimes under obligations undertaken by signing an association agreement with the EU last year, however the bill is strongly criticized for being a poor attempt to fulfill the requirements of that agreement.
Preparing, producing, purchasing, keeping, transferring and dealing drugs is currently punished by to 11 years in jail, but according to the draft, punishment may be reduced to 6 years.
They requirement by the EU was to liberalize drug related legislation and also separate criminal responsibility for illegal drug dealing from personal drug use.
The explanatory note of the draft reads that it is necessary to fulfill those recommendations in order to follow recommendation issued by the European Commission for Georgia to fulfill its visa liberalization action plan before the Eastern Partnership summit which opened today in Riga.
Critics of the draft like the fact of splitting drug dealing and possession of drugs for personal use, but think that the punishment for the latter was only minimally reduced. In fact, members of the '2 Ivnisi' movement believe that a person shouldn't have to spend a day in jail for using drugs.
The draft also includes prison for 18 to 20 years for purchasing, keeping and dealing particularly large amount of drugs.
A few weeks before June 2, the '2 Ivnisi' movement launched an online campaign by taking pictures of themselves holding a note that says 'Don't arrest 2.06' with a leaf of marijuana on the note.