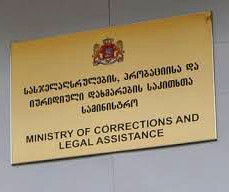 TBILISI, DFWatch–Georgia is in negotiations with Turkey about locating all 274 Georgian prisoners in that country in the same jail.
The Georgian prison minister visited Turkey's justice minister Tuesday and discussed conditions of Georgian prisoners, according to the Prison Ministry press office.
Prison Minister Kakha Kakhishvili asked to have all Georgian prisoners in one facility and to provide Georgian TV channels, offer Georgian literature, provided by the ministry, allocating special prayer room for them and provide special food for religious occasions.
274 of the Georgian prisoners are serving time at 36 facilities in Turkey. 121 of them are in Istanbul, where they are offered Georgian TV channels.
Turkey's minister of justice of promised that if the prisoners agree, they will be located in one facility and will have access to Georgian TV channels.
The two also discussed the conditions of Turkish prisoners in Georgia. There are 93 Turkish prisoners serving a sentence in Georgia, with access to Turkish TV channels. They have special prayer rooms and special food during religious celebrations.
During his visit, the prison minister plans to meet with Georgian prisoners in Istanbul.