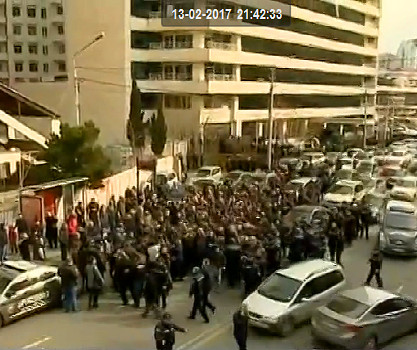 TBILISI, DFWatch–A demonstration in front of Tbilisi City Hall on Monday turned violent when activists for the United National Movement (UNM) tried to break into City Hall in order to meet Mayor Davit Narmania.
Thirteen members of the opposition supporters were detained by police.
The purpose of the rally was to protest an alleged corrupt scheme in City Hall which resulted in a family of the the brother of Appeals Court judge Natalia Nazghaidze being granted over one million laris in exchange for deciding against the current owners of Rustavi 2.
Nazghaidze's family, the court and Tbilisi City Hall dismiss the case and deny all allegations.
Nazghaidze was presiding judge during the appeal's case by Rustavi 2, which it lost in June, 2016.
UNM spokesperson Nika Melia said that the rally is a continuation of the campaign they kicked off on February 10 to support media freedom and protest the 'unfair' ruling against Rustavi 2, one of Georgia's most viewed TV channels, and very critical to the the ruling Georgian Dream party and particularly its founder billionaire Bidzina Ivanishvili.
"There is a particular case, when a judge was given a bribe of a million lari and there is zero response, and on the contrary, they say that it is a lie, but there is a document confirming the fact," Melia said.
Melia demanded to be let into the building, but the guards refused. He and his supporters then tried to forcefully enter the building, but City Hall Security Service kept them out.
On February 8, without identifying a source, Melia claimed that he has received information that the Supreme Court would announce its decision in the case by February 15 and that the ruling would not be in favor of the current owners.
Rustavi 2 is the largest Georgian TV channel by audience and is strongly in opposition to the current government. The channel has been embroiled in litigation over its ownership in a drawn-out case the opposition claims is an attempt by the government to take over and mute their main news outlet.
Since the Appeals Court in Georgia upheld a decision by Tbilisi City Court to transfer ownership of the largest opposition TV station, Rustavi 2, to Kibar Khalvashi, a former owner who claimed that Rustavi 2 was forcibly appropriated from him by the National Movement government, the dispute over the case has been continuing in the Supreme Court.
Khalvashi, who considers himself the legal owner of the company, sued the current owners on August 4, 2015 demanding USD 500,000 in compensation from the company. He also demanded to abolish the property of the current owners and recognize that 60 percent of shares belong to him and 40 percent to Panorama Ltd. Later, the amount of compensation was increased to USD 18 million.