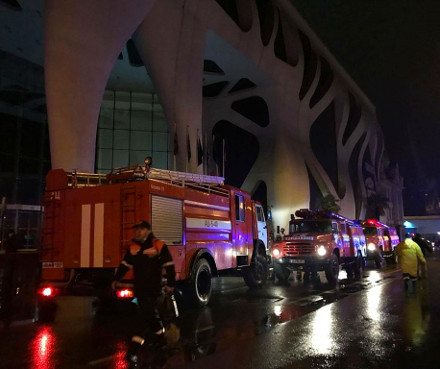 TBILISI, DFWatch–11 people are confirmed dead, and an unknown number injured in a massive fire Friday night at a five-star hotel in Batumi which is hosting the Miss Georgia contest.
More than a hundred firefighters and other personnel scrambled to the Leogrand Hotel & Casino in the center of Batumi after fire broke out at around 8pm, local time.
The fire is said to have started in the spa and casino areas.
Most of the victims choked to death from the fumes which engulfed the 20-storey building Friday evening.
The victims have not yet been identified. Officials declined to say whether there are any foreign nationals among the dead.
The interior ministry earlier said 12 had died, but later adjusted the figure to 11.
Prime Minister Giorgi Kvirikashvili and other government officials arrived in Batumi at about midnight.
Leogrand Hotel is currently hosting this year's Miss Georgia contest, but organizers said none of the contestants were injured in fire.
The hotel and casino is registered as a five-star facility in Booking.com. When the facility was completed in 2015, the Georgian government boasted that it had cost about USD 40 million.
The police has launched an investigation into the case. The cause of the fire is so far unknown.