TBILISI, DFWatch–It is illegal to fire anyone on maternity or paternity leave. It is also illegal to harass someone into quitting their job. But it is not uncommon for a woman to come back to work after a maternity leave, and realise that the employer will do anything to make her quit.
One example of this happening in Georgia is Medea Kuzanashvili, a radiologist from Tbilisi. She had worked for almost two years at a private clinic in Marneuli before she took maternity leave.
Kuzanashvili wanted to return to work three months after giving birth, but her employer insisted that she take six months off.
When she finally came back to work, she was told that she is needed only two days per week, instead of her former full time time position. However, she was promised that it is just a temporary arrangement, and that later, she will be able to work full time.
"Two weeks later, they told me that I cannot use my room anymore, as they have another radiologist working there," Kuzanashvili continued.
A couple days later, she no longer had access to equipment and was told that she is needed just once a week. That was the last straw, and Kuzanashvili decided to sue her (now former) employer, and the case went to court this January.
No direct protection after maternity leave
Kuzanashvili's case was taken up by the human rights group Article 42. Their lawyer Ana Tvaradze told DFWatch that currently they have five discrimination at work cases in the courts, and two more are in the process. Almost all of the victims are women who were fired or forced to quit their jobs during or straight after maternity leave. Thus, according to Tvaradze, sometimes women are afraid to take maternity leave, even if they have a legal right to do so.
The Labor Code currently stipulates that a person on maternity or paternity leave can not be fired, but there are no provisions explicitly protecting women who return to work after maternity leave. However, it prohibits any harassment and discrimination at work, and it also makes it illegal to fire anyone on a discriminatory basis.
Bullying women to make them quit
The lawyer explained that in most cases an employer hires someone to temporarily replace a person on maternity or paternity leave.
"When a woman comes back to work after her leave, employers face a problem of dismissing a temporary employee and giving her the job back. So they try to harass her, threaten her and push her to resign or to ask for a part-time position. They underline that she has a child now, and needs time to take care of him or her," Tvaradze added. But not too many people are determined enough to sue their employees. They are afraid of reaction from society, have no support from their families, or simply do not have 100 GEL to pay the court fee, according to Article 42.
Ombudsman: women are not treated equally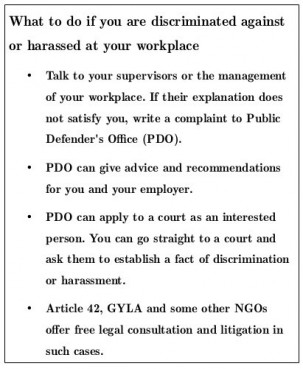 The risk of being fired after or during maternity leave is just one small part of a bigger gender discrimination picture in the labor market. As reported by DFWatch, women in Georgia earn two thirds of men's salary and there is a clear gender segregation in the Georgian labor market, partially because of traditional perceptions of gender roles.
Georgia has international obligations to ensure non-discriminatory work environment, as specified in the Association Agreement with the EU. In 2013, the Labor Code underwent a lot of changes, which have improved women's position in the labor market.
Anti-discrimination and anti-harassment provisions were added, paid maternity and paternity leave became longer and it also became illegal to fire a pregnant woman.
According to the head of gender equality department at the ombudsman's office Eka Skhiladze, these changes improved women's situation, but Georgian labor legislation still offers so weak protection that there is a risk of unequal treatment on the basis of gender.
"The issues of women's promotion, their equal participation in economic development, gender-related sexual harassment, discrimination in hiring and firing, bonuses and benefits, work-life reconciliation and proper pay are still problematic," Eka Skhiladze told DFWatch.
"Special attention must be paid to employed women with families, in order for them to maintain competitiveness after short leave of absence from labor market, due to pregnancy or child care, and be involved into labor market," she added.