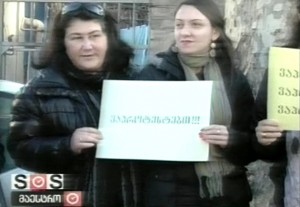 TBILISI, DFWatch – Democracy activists and rights groups descended on president Saakashvili's palace in Tbilisi's Avlabari district Thursday to protest against his signing of a bill into law.
Frustration and disbelief has been the dominating reaction among political circles after this became known, and in a spontaneous show of emotion, activists took to the streets outside Saakashvili's residence later in the day.
Nina Khatiskatsi in Transparency International told Interpressnews the bill signed by the president is unconstitutional, and pointed out that the bill is forcing political parties to return donations made before the law was enacted.
The law on campaign finance works restroactively and groups say it is a violation of the constitution and international treaties.
Wednesday there was a brief window of opportunity during which the president could have vetoed the bill, and a number of influential organizations signed a plea to the president for him to use his veto powers, but without results.
Tamar Chugoshvili, leader of Georgian Young Lawyer's Association, said that the group is going to ask the Constitutional Court to declare the amendments unconstitutional. In addition, they plan to carry out a monitoring of how these new regulations are implemented.
The law on political associations of citizens is now in force, and appears on a special webpage showing current legislation, called Matsne.
According to the law, not only political parties but also organizations that are "indirectly" connected to politics, must return funding they have received in the last few months. They must do this within three calendar days.
The billionaire Bidzina Ivanishvili transferred 1.1 million lari to four opposition parties in November and December. The money will now have to be returned, otherwise it will be state property.
Ivanishvili, the world's 185th richest, announced last October that he wants to go into politics to defeat the ruling National Movement party in next year's election for parliament. The ruling party says he is working for Russian interests and that financial wealth shouldn't be allowed to spill over into political influence, while Mr Ivanishvili claims the many legal obstacles he has been subject to are politically motivated.