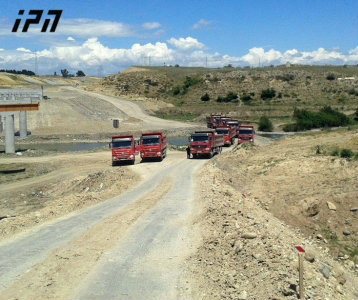 TBILISI, DFWatch–Road construction has become the new subject of dispute between the former and current government in Georgia.
What sparked the debate was when the prime minister opened a new section of highway in western Georgia by scathingly saying that the new government is more productive in building roads than the previous one.
PM Irakli Garibashvili said that the new government is implementing infrastructure projects faster than the previous government. As an example he named the construction of express highways.
"In two years we managed to construct 55 km of express highway, while in the eight years before 2012, they managed to open only 70 km of new express highways," he said, adding that the construction and rehabilitation of more than 550 km of roads, 19 new bridges and rebuilding of more than 80 bridges was implemented only after 2012.
This didn't sit well with supporters of ex-President Mikheil Saakashvili, who prided himself on paying much attention to construction of roads. A common phrase during his period in power was 'should we eat asphalt?', which reflected the view that many thought he spent too much on roads instead of social programs.
This policy was actively lobbyied by Kakha Bendukidze, the former economy minister who recently died in London. Bendukidze was a former oligarch who returned from Russia after building a fortune there and became an ideologue for the neoliberal reforms in Georgia.
Mikheil Machavariani from the National Movement thinks that PM is manipulating the number and that he has no basis for saying that the new government has implemented more projects than two years ago. He said the construction of most of these roads started during the previous government.
Machavariani told DF Watch that the first steps toward constructing new highways were taken from 2006, because when the National Movement came to power in 2003 the budget was too small, only 1.2 billion lari.
"Along with the budget growth, we were increasing infrastructure projects. 'Should we eat asphalt', a well-known saying among our opponents, had to do with the idea that we were doing nothing else than building roads," he said, adding that Saakashvili's final goal was to have a highway from Red Bridge, which is on the border with Azerbaijan, to Sarpi, on the border with Turkey.
"The construction of the road which Garibashvili opened today started during our government. We got funds in 2010 and construction started in 2012."
The planning for the Zestaponi-Kutaisi-Samtredia section of the east-west express highway, which Garibashvili opened, started in 2011, when Saakashvili's government was still in power.
This section of road is projected to last for 30-40 years and is meant to unload transit traffic through Kutaisi, the city where parliament is located, while it will reduce travel time east-west by at least 30 minutes.
Road construction is divided in three stages and expected to be finished in 2015. The estimated cost of the construction work is 180 million lari.
Most of the project was implemented by JICA, Japan International Cooperation Agency. http://www.jica.go.jp/english/about/history/index.html
Construction work on the first section of road started on December 25, 2011, and by 2012, the cost passed 16 million lari.
On the second section construction work started July 18, 2012, and during that year 7,4 million lari was spent. In 2013, 80 million lari was spent, while in 2014 76 million lari.