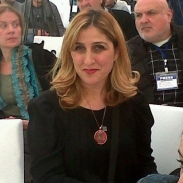 TBILISI, DFWatch – Editor of newspaper Rezonansi Eliso Chapidze (pictured) and a group of media workers Friday submitted a bill to parliament, asking for strengthened protection of journalists ahead of next year's parliamentary eleciton.
The authors of the bill asks to create the conditions so journalists can work in accordance with international standards. One of their proposals is to have more transparency in the finances of media.
"It's very important; we should be very transparent to avoid the transfer of the administrative resources into the media, which is controlled by the government," says editor in chief of the newspaper Rezonansi Lasha Tugushi, who has been working on the bill since May together with media expert Zviad Koridze, editor of Rezonansi Eliso Chapidze, legal expert Vakhtang Khmaladze and lawyer Alexander Baramidze.
The changes also include issues like media monitoring and regulation of paid and free political advertising.
The working group considers it very important to separate journalistic products and advertising, in order to avoid hidden advertisements, especially since the government recently proposed to restrict party financing.
The initiative group thinks that the prices of political advertisement should become lower, so parties have access to it. Today it is much more expensive than ordinary commercial advertising.
Another issue is the working conditions for journalists during election time.
"We conducted a survey and asked nearly 100 journalists what prevents them from reporting on the elections better," Eliso Chapidze says. "The majority answered, the frequent changes in the election laws and not knowing them, violence at polling stations, fining and investigation."
The group demands to increase the maximum penalty for preventing journalists to work to six years. This is regulated by article 154 of the Criminal Law.
Eliso Chapidze says that a special passage should be added to article 71 of the election code. According to this new passage it will not be the chair of the election commission who has the right to investigate and fine journalists at the polling stations, but two thirds of commission members.
"We have some initiatives and recommendations also for the Criminal Law and Civil Code of Georgia, which even more will obligate the government, so that journalists will be better protected during the election period," Zviad Koridze says.
"Because we know the number of cases of violations against journalists, also prohibiting them of journalism activities and getting them out of the polling stations by force."