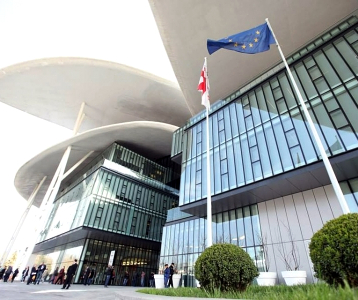 TBILISI, DFWatch–The head of Georgia's Public Registry has been accused of discrimination and sexual harassment by at least two of the agency's former female employees.
Papuna Ugrekhelidze, the 43 year old chairman of the NAPR, who is currently on a business trip to the US, flatly denied the accusations and said he would only comment after returning to Georgia before the weekend, a spokesperson for NAPR was quoted as saying.
His superior Justice Minister Tea Tsulukiani says she won't fire Ugrekhelidze until talking to him about the accusations face-to-face.
One former female employee of the agency insists that Tsulukiani has been aware of the case, as she personally complained to her about the misconduct. Moreover, she claims to have notified other high officials, including Prime Minister Giorgi Kvirikashvili and President Giorgi Margvelashvili, as well as several MPs, but to no avail. The woman says that she informed the officials 'either personally or by email'.
The woman, whose identity has not been revealed, has also approached the Public Defender's Office, which examined the case in 2017 and found out that Ugrekhelidze was guilty of harassment and gender discrimination.
Despite the official decision by the Public Defender, no action has ever been taken against the NAPR chief, the woman says, adding that she has felt distressed.
The second woman, who didn't talk to the media, approached Georgian Young Lawyers Association (GYLA), a local NGO working in the field of legal assistance. GYLA says that it has started legal proceedings against Ugrekhelidze based on possible discrimination and sexual misconduct.