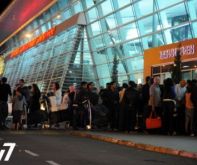 TBILISI, DFWatch–A thunderstorm led to two planes being diverted from Tbilisi airport on Friday. One year ago, extreme flooding caused massive damage.

DFWatch spoke to one of the passengers of a flight that should have landed in Tbilisi but was diverted to Yerevan.
Mariam Mikadze, one of the passengers on the plane, which took off from Kiev, told us that she believes the decision to divert to Yerevan was made in the final minutes before landing.
She said that about half an hour before the plane should have landed, her family members were told that all was in order. Mikadze said the passengers were not informed of when they would leave Yerevan or when they would arrive in Tbilisi.
Extreme rain and wind caused problems in Tbilisi Thursday night and Friday morning. Roads were flooded, as were gardens, and trees were overturned. There were several road accidents, but no one was injured.
Apart from the flight from Kiev, also a flight originating in Israel was diverted. The flight from Tel Aviv should have landed in Tbilisi but was directed to Yerevan instead.
A spokesperson for Tbilisi airport told DFWatch that these two were the only flights that were interrupted. He added that both of the planes landed in Tbilisi two to three hours later, between 03:00am and 04:00a.m, when the weather improved.
Israeli airlines carried out the flight from Telaviv, while Ukraine Airlines carried out the flight from Kiev.