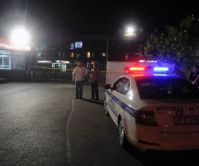 TBILISI, DFWatch–On Sunday the TV studios of Rustavi 2 had to be evacuated because of a bomb threat. This is the fifth bomb threat in four days in Tbilisi.
The live Sunday night show Post Scriptum was interrupted when the host, Davit Kikalishvili, said there was a report to the Interior Ministry's call center 112 that there was a bomb in a building, and that the broadcast had to continue from another studio.
The building was evacuated and for several hours, employees remained in the yard of building, while bomb experts and police were searching the place. No bomb was found.
This follows a false bomb report to Rustavi 2 on Thursday morning. Later there were two reports, both false, about a bomb in the building of Imedi TV. Later the same day there was another false report about a bomb at Tbilisi international airport.
Police detained a suspect in all the cases, and they were all minors.
Georgia's legislation doesn't allow punishment for minors in case of false terrorism report. The Ministry of Internal Affairs has said it will present a draft amendment to change this and assign punishment for parents of minors who make false bomb threats.
Ministry representatives also say the punishment for false terrorism reports will become stricter.
Rustavi 2 Director Nika Gvaramia Sunday implored Interior Minister Irakli Gharibashvili to react strictly.
"I don't want to seek for any purposes behind this," he said. "This is the second case and it is a sign of becoming permanent and I suspect this is not the last case."
Gvaramia also said that there is no point in making hoax bomb calls.
"Rustavi 2 won't be afraid and won't change its editorial policy," he added.
Earlier, there were two bomb threats to the parliament building in Kutaisi, Georgia's second largest city. One minor and one 70-year-old man were detained.