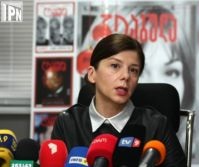 TBILISI, DFWatch — Georgian TV viewers will get a new channel in the near future, to be produced by the owners of the magazine Tabula.
The new channel will be focused on news and will probably go on air in January 2013.
The editor of the new channel will be Tabula editor Tamar Chergoleishvli, who used to work at the Council of Europe and is the wife of Giga Bokeria, Secretary of the Security Council of Georgia.
Tabula was set up in 2010 with a declared goal of support political pluralism and the development of a free market, as well as defending human rights and the rule of law.
It's goal is not only to review current events, but also to have an influence over current processes, to become catalyzer which will strengthen civic, economic and national freedoms, description of the magazine says.
Tabula is considered a supporter of right wing libertarian views and policy. It used to be a weekly edition; however team moves to work on new TV channel. Magazine will become monthly edition and will be more focused to write on politics.
Tabula bought license from TV company Sakartvelo, which mainly showed movies and programs on military topics.
Sakartvelo appeared on Georgian TV screens in September 2007. It is owned by Iago Chocheli, brother of Tsezar Chocheli, state trustee in the Mtskheta mountainous region, and owner of Georgian chocolate producing company Barambo.
TV Sakartvelo took over the license previously held by TV 202, which was confiscated after its editor Shalva Ramishvili was sentenced to four years in jail for attempted blackmail of a parliamentarian for the National Movement party. Ramishvili proclaimed his innocence and was at the time of his imprisonment determined as a possible political prisoner by the International Human Rights Federation; FIDH.
The channel is also known for having broadcasted an advertisement for the Georgian reservist force, the National Guard, in 2008, in which a quote by Nazi leader Adolf Hitler was used in a positive sense as a way to encourage youth to sign up for service.
Sakartvelo's mainly action and war film programming was shown on screens in military barracks.
Tamar Chergoleishvili, editor of Tabula magazine on Wednesday held press-conference speaking about goals and future of magazine and new channel.
"Television won't be supporter of any political force," she said, "we have defined ideology, we support personal freedom of human and secular state."
Editor says values of future television may come in line with values of certain political force.
According to her one of the founders of TV company will be Kakha Bendukidze, former economy minister famous for conducting liberal reforms in the country. While being minister Georgia's labor code was amended to give more rights to employers and reduce rights for employees; selling state property to private companies, etc. Now he is founder of Free University, one of Georgia's popular universities.
"We plan to cooperate with former members of government like Sergi Kapanadze, Tamar Kovziridze, Eka Zghuladze, etc. We will try to cooperate with them in order to have them as commenters on different topics," Chergoleishvili explains.
TV company will cover Tbilisi, Kutaisi, second largest city after capital, where new parliament building is located, Gori, a town close to the capital, Senaki, Batumi and Sachkhere.
Tabula was set up by Civic Education Foundation, which will also set up new channel. Members of this foundation are Tamar Chergoleishvili, Kakha Bendukidze, Levan Ramishvili, Davit Paichadze – about 15 people – civic figures politicians, journalists, experts, almost all known for having libertarian views.