Police Sunday arrested the well-known Georgian journalist Shalva Ramishvili and his crew in president Saakashvili's vineyard.
Ramishvili was just done shooting footage for his TV show "Without Accreditation" in the president's vineyard in Kvareli, a village 140 km west of the capital Tbilisi when regional police and officers from state security appeared and confiscated all the equipment. The officers detained the crew and brought them to a nearby police station.
"They realized that our detention was groundless" — Shalva Ramishvili, TV journalist
Twenty minutes after their detention, both journalist and cameramen were released.

"They realized that our detention was groundless," Shalva Ramishvili said during a phone interview on Maestro TV Sunday. "There could be a scandal, and so they released us and returned part of our equipment, but without all the footage."
No one warned the journalist not to enter the President's property. DF Watch tried, but was unable to get a comment from the Ministry of Interior Sunday evening in connection with this story.
"Without Accreditation" is a gonzo style political satire program aired on Maestro TV, a small independent cable channel available mainly in Tbilisi and over the internet.
Its host, Shalva Ramishvili, was sentenced to four years in prison in 2006 for trying to extort 100,000 USD from a lawmaker for the ruling party in connection with a documentary. He has always maintained his innocence in the case and claims he was set up. Still, he chose not to apply for a pardon. In Georgia a special commission regularly considers a list of prisoners for unconditional release on humanitarian grounds, many of which are freed.
After his release from prison in August 2009, Ramishvili quickly made waves,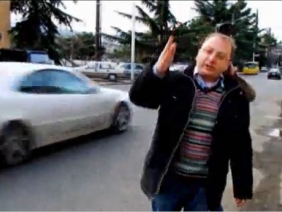 first as a radio and later TV journalist. Through a fiercely personal style of journalism, he has taken issue with both government and opposition, and made fun of and tried to expose what he portrays as unfair and self-important institutions in Georgian society.
When four journalists were charged with being Russian spies in June this year, and the Georgian police set up a telephone hotline by which potential other spies could give themselves up in return for immunity, Mr Ramishvili filmed himself trying to surrender as a spy, unsuccessfully.
He also filmed himself trying to register as a member of several opposition parties, exposing that they are closed to outsiders.
Some years back Ramishvili founded and ran TV 202, but the station was expropriated after his arrest in 2005 and later reemerged as TV Sakartvelo. A stark contrast to the satirical style of 202, Sakartvelo is a movie channel run by the Georgian Ministry of Defense, broadcasting mainly war and action films, and often running commercials for military service.