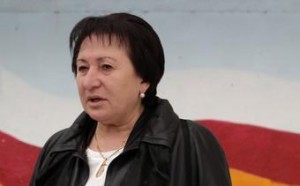 TBILISI, DFWatch – The opposition in South Ossetia won't call off their demonstration on the main square, because they claim the leadership didn't honor an agreement from Friday night.
Saturday the man who has lead the region for the last ten years, Eduard Kokoity, announced his resignation as promised, but at the same time made it clear that he did not see his leaving as a sign of defeat.
"We have defeated the Orange Revolution. South Ossetia will always be with Russia, and we will not allow our gratitude to Russia to be stained for political ambitions, we gave the oath in 1774 when we joined great Russia," Kokoity told the region's popular assembly.
The former leader also said that 'no political ambitions are worth spilling blood for'.
It seemed to be the end of the crisis, but Sunday news reports indicated that protests will continue.
The problem for opposition leader Alla Dzhioyeva is that three other officials who were to leave alongside Kokoity haven't actually left. One of them, the deputy attorney general, just switched to another position as head of the Supreme Court, while the two others are still in their same posts.
As a consequence of the failure to honor the agreement as they see it, Alla Dzhioyeva has called for her supporters to continue their rallying on Tskhinvali's main square and announced that she is launching a new political party, called the Justice Party.
According to the Russian news agency RIA Novosti, she called on supporters to vote for Vladimir Putin in the Russian presidential election and said she was ready to be Putin's ally.
The breakaway republic will hold new presidential elections on March 25. The previous attempt at holding elections on November 27 failed. One of the candidates, Anatoly Bibilov, complained to the region's supreme court about election fraud, and the court annulled the results.
At the time of the annulment, Alla Dzhioyeva looked set to win a clear victory. The agreement reached with authorities Friday says she will be allowed to stand as a candidate in the rescheduled election next March, but it is unclear whether this will be honored by authorities after the latest development.