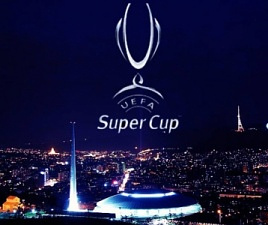 TBILISI, DFWatch–Tickets for the UEFA Super Cup match between Barcelona and Sevilla will be sold from booths in Tbilisi, starting July 12 at 9am.
Tickets will be available only in booths at Mikheil Meskhi stadium in Tbilisi after the website biletebi.ge failed to manage online sales several times and in the end managed only to sell the quota of tickets that was allocated for foreign users.
Zviad Sichinava, President of the Georgian Football Federation, said at a press conference on Tuesday that after the online system failed the federation took responsibility to print and sell the tickets.
"We promised fans to inform them about the date and time for selling tickets several days in advance. I want to say that for this week together with the Ministry of Interior and Tbilisi City Hall we went through all demands which UEFA had," he said, adding that Sunday is a weekend, which puts people wishing to buy tickets an equal position.
Prices remain the same – 12, 35 and 75 laris – and one person can only buy four tickets. Cash booths will be equipped from Thursday. There will be banners, 12 printers, 12 computers and 12 cashiers.
A group of fans and journalists will form a commission to count the number of tickets before distributing them to the booths.
One more detail of the ticket sales is that there will be organized a special path from Vake Park to the stadium. Fans will have to gather in the park and wait. Groups of 50 people at a time will be allowed to reach the booths after passing through the path and police will protect the area. Water will be free for people in the crowd. City Hall will also provide toilets.
About 22,000 tickets will be sold. Match will be played on August 11 at Dinamo Stadium.