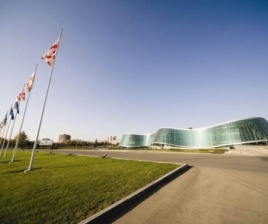 TBILISI, DFWatch–Police in Georgia arrested three Chinese citizens on Thursday, as workers on a railway line in western Georgia claim that they were beaten by representatives of the company.
In a short statement, the Ministry of Internal Affairs (MIA) said its investigators have established that the detainees injured four people with a sharp object on November 3 after a dispute with them.
The detainees are being investigated for premeditated damage to someone's health.
The railway construction site is located in Zvare, a village in Kharagauli municipality. Thursday, other construction workers protested to demand a rapid investigation into the case and force the investor company to pull out of the project.
Earlier, the workers said representatives of the company beat them in the night of November 2 and the morning of November 3, using knives, sticks and axes. Workers said seven people were hospitalized in Khashuri and Zestaponi.
Rustavi 2 reported that one of the locals was transporting some wood at night, which enraged representatives of the Chinese company and it turned into a confrontation. They accused the workers of stealing the wood from the company's property.
There are no further details about what caused the conflict.
The Chinese company has not yet commented.
When the first fight was over, locals called the police, but according to the trade unions, the police didn't react.
In the morning, the conflict continued. Three people were injured at night and four in the morning.
The company which us building the tracks is 23rd Bureau of the Chinese Railway and it has a contract with Georgian Railway to construct several tunnels.
Workers employed in this company have complained about difficult labor conditions for a long time, going on strike for several weeks in August and September. After the strike, workers say they feel more pressured.