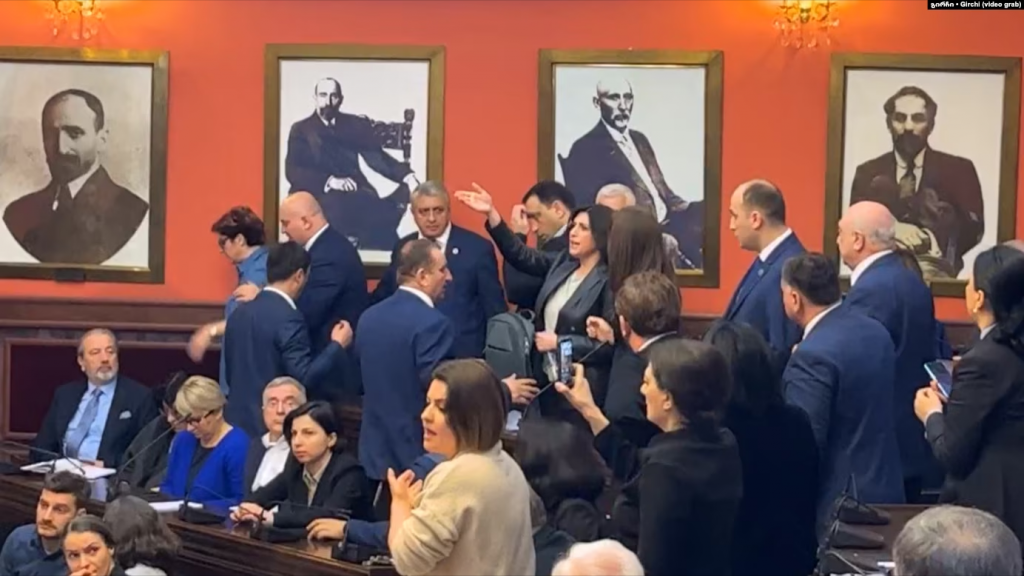 The opposition is creating a coordination council to resist the adoption of controversial bill on "foreign (influence) agents" by the ruling Georgian Dream, which is widely perceived as a kind of foreign policy U-turn for Georgia – distancing the country from its Western allies and bringing it closer to Putin's Russia.
"A coordination council has been created, which will unite pro-Western political forces, the non-governmental sector and all those people who think that the European future of Georgia is in danger," said Khatia Dekanoidze, a member of the UNM, on Monday evening.
She called on people to gather outside Parliament on Tuesday morning, where the debate on the draft law will heat up.
On Monday, the legal affairs committee of the parliament, after 6 hours of arguments, fights and the expulsion of opposition MPs, approved the draft law on "foreign agents" in the first reading.
During the session, law enforcers dressed in civilian uniforms gathered in the parliament, and a large number of police were mobilized on the street in front of the parliament.
Shortly after the beginning of the session, a physical confrontation erupted between the chairman of the committee and Levan Khabeishvili, the leader of the UNM. The latter and other opposition leaders were soon expelled from the hall.
The draft laws "On Transparency of Foreign Influence" and "On the Registration of Foreign Agents" have been developed and submitted to the Parliament by MPs from the Power of the People, a recently established political party staffed primarily by formerly GD hardliners. The party comprises a parliamentary majority together with the Georgian Dream.
The draft law, dubbed as "Russian bill", has been criticized by USA, EU, NATO, Council of Europe and other western institutions. The Power of the People, however, insists it's analog of the American FARA.
Although Power of People nominally is a separate political party, the Georgian Dream has expressed its unwavering support to its initiatives, including the foreign agents' bill.
Nominally, neither the PP nor the GD disavow Georgia's pro-Western foreign policies openly, although European and American politicians have repeatedly indicated that the adoption of the bill on foreign agents will put an end to the country's aspirations to become a candidate country for the EU and may even deprive it of its European perspective.
ODIHR stated Monday that it had commenced preparing a legal opinion on the so-called foreign agents draft law in Georgia to assess its compliance with intnational standards.