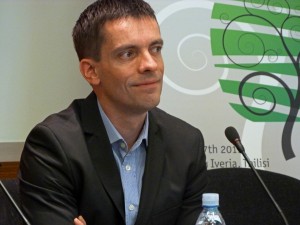 TBILISI, DFWatch – The British magazine The Economist will gather experts and politicians in Tbilisi November 17 to discuss and analyze Georgia's investment environment and perspectives. The event will take place in the Radisson hotel.
Among the Georgian speakers will be prime minister Nika Gilauri, finance minister Dimitry Gvindadze, and Vera Kobalia, the minister of economy and sustainable development. Free Democrats leader Irakli Alasania will also be attending.
Among the foreign speakers tomorrow are Asad Alam, country director at the South Caucasus Country Department, Paul-Henry Forester, EBRD country director for Moldova, Caucasus and Belarus, Tom de Waal, senior associate at the Carnegie Endowment.
Dougal Thomson (pictured), Head of the Conference Program CEMEA of the Economist Group and the chairman of tomorrow's conference, told journalist today at a special conference that the summit will discuss the environment which can influence the Georgian economy in the future.
"We are not here to tell investors to invest in Georgia, we are here to talk openly and critically about the investment problems and possibilities in Georgia. If we will be able to make Georgia more successful in terms of investments, we will be very happy about it," he said.
He also said that the discussions will also be on important issues like the relations between Georgia and Russia and what it means for investment, which people are very interested in.
"If they are in Georgia holding this conference, it means that they see a big potential in this country," Keti Bochorishvili, director of National Investment Agency, said at today's press conference.
"Georgia has more potential in comparison to what's being done today. We'll see what the possibilities and perspectives are for us. It's a great chance for foreign investors to pay more attention to Georgia again. If The Economist is in Georgia, it means that there is a big interest in Georgia."