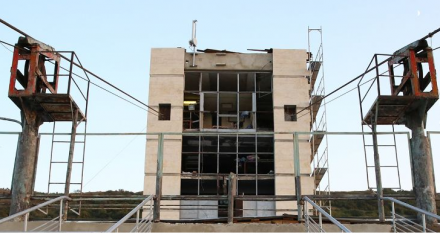 TBILISI, DFWatch–A ropeway connecting the biggest park in Tbilisi with a recreational lake in the hills above will reopen in September after having been closed for seven years.
Spokesperson for Tbilisi Transport Company (TTC) Gvantsa Potskhveria told DFWatch that the first week after reopening, the ropeway from Chavchavadze Avenue to Turtle Lake will be in test mode.
Potskhveria told us the ticket price is in the process of being determined, but she is sure it will be acceptable to everyone.
We were told by TTC that both stations of the ropeway are currently undergoing refurbishment. The cable supports have been changed and modern remote controls installed.
There will be two cabins, each designed to carry 12 people, including one attendant.
Zurab Zurabishvili, head of TTC's ropeway service, told us one of the old cabins has been completely refurbished, while the other one has been replaced by a new cabin manufactured in Georgia. The cabins will be also offer wheelchair access and bicycle racks.
The traction cable was purchased from a Swiss company, while the remote was produced in Georgia at the representative office of Schneider.
The length of the Turtle Lake ropeway is 1,140 meters and the trip will take 5-6 minutes one way.
It will be available from 8am till late night in summer. In winter, it will run until 10pm.
The ropeway was built in the second half of the 20th Century. It was designed by the engineer Vakhtang Lezhava. Since 2009, it has not been operational.
City Hall allocated 1.1 million laris for the refurbishing work, which was carried out by the company Bagirmsheni.