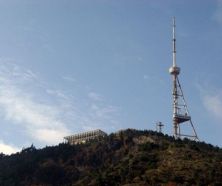 TBILISI, DFWatch–The TV tower in Tbilisi went briefly dark Monday because of disagreement over the city's budget, but the flashing light show lit up again late at night.
The lights that have become the most visible landmark in the Georgian capital, were turned off because the city's administration was running close to its spending limit for what to do when the city is without a budget.
Tbilisi City Hall said that the head of the City Council and the majority assured the deputy mayor that the financing of the tower's light was not the reason they failed to confirm the budget, so the administration decided to turn on the lights again.
The Georgian government said Tbilisi's National Movement-run officials in the capital are trying to blackmail the city, but City Hall responded that shutting down the light show was just a way to accelerate the approval of the budget.
Assembly members from the Georgian Dream coalition rejected the 2014 budget proposed by the administration last month, which is staffed by National Movement members. Georgian Dream's council members say the budget lacks transparency and is aimed at helping the National Movement in the local elections later this year.