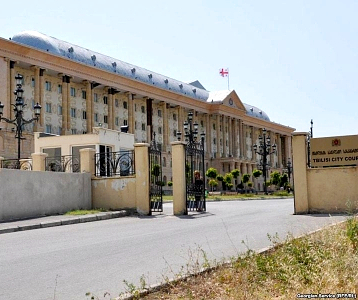 TBILISI, DFWatch–Tbilisi City Court has started reviewing a lawsuit against DFWatch filed by Igor Giorgadze, a former head of Georgia's State Security Ministry who is wanted by Georgia for a failed assassination attempt against President Eduard Shevardnadze in August, 1995.
Soon after the attack, Igor Giorgadze escaped to Russia where he took shelter.
Giorgadze's lawsuit deals with a news article published on DFWatch in 2016. He challenges a headline with the phrase 'public enemy number one' and a sentence which said that he has been convicted to 17 years' prison by a Georgian court.
During the first day of court proceedings, Giorgadze's lawyers proposed an agreement, but that was rejected by DFWatch Editor-in-Chief Lasha Tughushi.
"We are confident in the correctness of our position and do not want any agreement. Let the court decide," Tughushi said at the hearing.
"Giorgadze's side proposed an agreement which implied denying the information contained in the news item. Our side considers that there was no violation of any standards and this is confirmed by information available to the journalist," DFWatch lawyer Mariam Gogosashvili said.
All evidence will be provided during court proceedings, she said, adding that Giorgadze's side hadn't managed to file a formal complaint on time, which means that the court should dismiss it.
"The article was published on July 23, while the suit was filed in December. By law a journalist is not obliged to store materials for more than 10 [working] days," Gogosashvili said.
Ms. Gogosashvili works for Georgia's Young Lawyers Association which represents DFWatch at the court.
"As for the headline,'Public Enemy Number One', this is an assessment and therefore, in this case, their demand should be dismissed as well," the lawyer added.
The next hearing is expected to be held in two weeks.