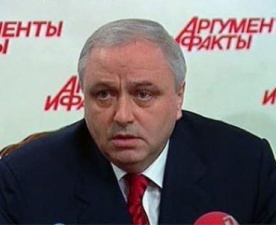 TBILISI, DFWatch–Interpol has called off its search for the Georgian former intelligence chief Igor Giorgadze, who has been a staple of domestic politics as the preeminent 'bad guy'.
Giorgadze is accused of having organized an assassination attempt on President Eduard Shevardnadze on August 29, 1995. Two years later, he was found guilty and sentenced to 17 years in jail, but at that point he had already settled in the Russian capital, which became his base for the next two decades.
As an exile in Moscow, Giorgadze has railed against Georgian authorities and their western orientation after the 2003 Rose Revolution, which earned him a status as a bogeyman in the domestic politics of his country of origin, a symbol for the 'Russian hand' of hidden control.
He founded an 'anti-Soros' organization, 13 members of whom were arrested in 2006, charged with sedition.
The former minister told Iberia TV in Moscow that he now plans to return to Tbilisi, where the city court on March 30 began looking through his case one more time, and might end up acquitting him of the 1995 attack on the president's life.
Interpol also decided to call off its search for other Georgian former government officials: former Justice Minister Zurab Adeishvili, former Defense Minister Davit Kezerashvili, former MIA official Erekle Kodua, former head of Constitutional Security Department Data Akhalaia.
These are politicians from the former regime of President Saakashvili which was voted out of power in 2012. Many of Saakashvili's officials have been put on trial, however some of the main players are in exile, including Saakashvili himself, who is governor of Odessa in Ukraine.
The Chief Prosecutor's Office in Tbilisi vowed to do its best to make Interpol re-open its search for Giorgadze, who once was head of Georgia's Security Ministry.