TBILISI, DFWatch – Some of the Georgian non-governmental organizations (NGOs) are ready for a political partnership with the billionaire turned opposition leader who is the main threat against incumbent president Mikheil Saakashvili's rule.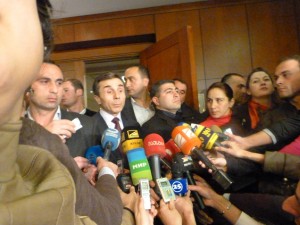 On Monday November 7 tens of Tbilisi based NGOs met with Bidzina Ivanishvili, answering his invitation. The meeting lasted for two hours and was held behind closed doors. Afterwards discussion continued as those present pointed out what they see as the main hindrances to a democratic development in the country.
At the beginning of the meeting Ivanishvili noted that today it's most important for society to become active, and he hopes that it will be possible with the NGOs' effort.
"We are well aware of today's situation when authorities resort to violence to terrorize people and to make civil society passive, which to some extent has already been achieved," Ivanishvili said during his opening comments.
"It's our duty today together with you – and I know you have big experience in this – to manage the activation of civil society and this way weaken the repressive apparatus," – he went on, and added: "In the final instance let's together draw up an action plan for how to resist the apparatus of violence and how to manage to get a larger part of society involved."
It's unclear what decisions were made and what kind of action plan was worked out, as no comments were made about this.
After the meeting, some NGOs openly aired their grievances about the lack of funding, therefore hinting to the billionaire for funding opportunities.
Kakhi Kakhishvili, chairman of the organization Electoral and Policy-technologies Research Center thinks politics and the non-governmental sector can't be linked together.
"Ivanishvili is not Maecenas anymore – he is a political figure. In this case the non-governmental sector should probably make a decision itself. If it wants to cooperate with somebody due to some political sympathies, then it should move into politics, and that part which is concerned about keeping its objectivity shouldn't await financing from Ivanishvili," he says.
"It's important, because an amendment to the Criminal Code in connection with the political bribery has been already initiated and I'd suggested to the all NGOs to be more careful in this regards," Kakha Kakhishvili adds.
Keti Khutsishvili, director of Open Society Georgia Foundation, shares this position and says that she also noticed that some NGOs have a desire to cooperate with Ivanishvili, which is unacceptable to her.
In addition, as the participants of the meeting later noted, the discussion mainly were about human rights, electoral and legislative issues and also about conflict regions and border security issues, as well as general sub-regional problems.
Ivanishvili himself noted after the meeting that it was of vital importance to him to meet with the non-governmental sector.
"The meeting was held in a question-answer format. I met very interesting people. I had many questions with them and I also took many notes. In the nearest future I intend to cooperate closely with them about specific issues and projects. I have great hope in the NGOs and the civil sector," Ivanishvili stated.