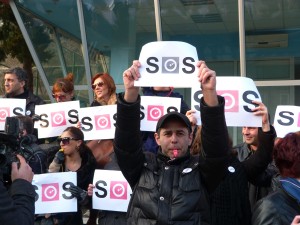 TBILISI, DFWatch – Journalists working for an embattled Georgian TV station today called for solidarity and announced that they will found a new media unit.
The rally took place in front of a local police building on Nutsubidze Plateau, not far from the center of Tbilisi, and the main demand is that they be allowed to continue their work under normal conditions.
Journalists from other Georgian media outlets, as well as politicians and representatives of non-governmental organizations, joined them to show support, holding placards and blowing whistles for about forty minutes.
Mamuka Glonti, one of the co-founders and a former producer at Maestro TV, called for the heads of all media units to gather on Monday in Tbilisi Marriott Hotel in order to set up a new media unit.
"Let's come together organizationally, all the media, on the principle which NATO has, that an attack on one media unit will be perceived as an attack on all media outlets," he appealed, asking representatives of media to show up on Monday and sign a memorandum.
Glonti demanded that the police let the legitimate director of Maestro, Ilia Kikabidze, into the main studio building where Erosi Kitsmarishvili still remains, together with unknown people.
Maestro journalists say they still aren't allowed to work under normal conditions, and are having to keep on broadcasting form their radio studio at a different location in Tbilisi.
On December 7, Tbilisi police told Erosi Kitsmarishvili to 'immediately leave' the studio building he has taken over, but he did not comply and still remains in the building today.
"We demand that we, the journalist, have the opportunity to enter our building and broadcast all over Georgia, as it used to be before," Maestro journalist Tea Sichinava says.
"I only demand to be able to work in a free environment without people illegally climbing in, to fulfill my professional duties and tell the truth to society," says Ana Broladze, also journalist at Maesto. "We demand an adequate reaction from the bodies or structures which are obliged to protect the professional activity of journalists."
Meanwhile, Erosi Kitsmarishvili is preparing an appeal before Tbilisi City Court on Monday against the founders of Maestro, demanding 7 million US dollars in compensation for material damage. This is how much money he says he has contributed to Maestro for developing the TV station.
Kitsmarishvili today appeared at the office of online news agency Tribuna.ge and said he is also going to appeal to the prosecutor's office, requesting to start an investigation of Maestro's director, Ilia Kikabidze. He added that he plans to initiate international arbitration proceedings in Geneva against Maestro's founders, "where the investment embezzlement issue will be investigated."
"On November 30, not Erosi Kitsmarishvili, but Mikheil Saakashvili climbed the walls of the Maestro building. And whatever the government will try to do to present the situation as a dispute between two subjects, it's not true," Glonti claimed today, adding that a dispute between two subjects is always solved in court. "
"Erosi Kitsmarishvili intruded on our building, and the police remain without doing anything. By not doing anything it is violating the law. The police do not protect the rights of journalists."
Early morning on November 30 Maestro journalists called the police for help to make Kitsmarishvili and about ten unknown people leave the building. But instead, Kitsmarishvili fired Mamuka Glonti and the general director of Maestro. The journalists have since been requesting to restore normal operations.
"This is how the Georgian people receive the truth. We won't give up the truth," Goga Khaindrava, a Georgian politician, said at today's meeting.
The next protest rally is scheduled for Tuesday and will be held at 3 pm in front of the president's residence in Avlabari in old Tbilisi.