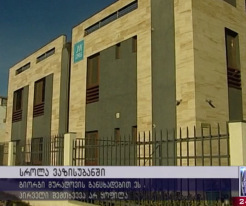 TBILISI, DFWatch–For a second time in one week, gunshots have been fired at a congregation hall used by Jehovah's Witnesses in Tbilisi.
Monday morning, someone fired shots at the Kingdom Hall building in Vazisubani, a suburb in the Georgian capital. There was no-one inside and no injuries were reported.
November 23, unknown opened fire at the same building. Police are investigating the shooting as damage to other people's property, but no-one has been detained.
Manuchar Tsimintia, a lawyer for Jehovah's Witnesses, said a surveillance camera captured the shooting, and police could use this to investigate the case.
Nukri Mibchuani, a Jehovah's Witness, told journalists on Monday that they do not know who could have carried out the attacks.