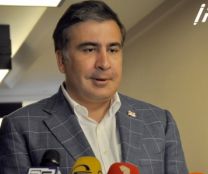 TBILISI, DFWatch–Georgia has issued a domestic search order for ex-President Mikheil Saakahsvili.
Georgia's Prosecutor's Office prepared the order and has forwarded it to the Interior Ministry. This means that if Saakashvili enters the country, he will be detained.
The ex-president is charged in three different cases: embezzlement of about eight million laris, dispersal of an anti-government demonstration on November 7, 2007, and breaking into the office ofImedi TV, and the beating of former parliamentarian Valeri Gelashvili.
August 2, Tbilisi City Court ruled that he must be placed in pre-trial detention, although he is not in Georgia.
"They declared a domestic, not external, search because the main thing is for me not to come into the country," Saakashvili said in an interview broadcast on Rustavi 2 on Thursday.