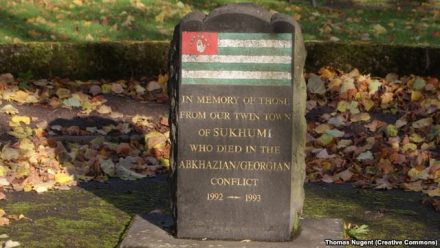 TBILISI, DFWatch–Authorities in the Scottish town of Kilmarnock have decided to dismantle a memorial stone dedicated to victims in separatist-held Sohumi during the 1992-93 Abkhazian war.
The problem was that the memorial not only commemorated the victims, but also was decorated with the flag symbolizing the unrecognized republic established by the separatists 25 years ago.
The autonomous region close to the Russian Olympic city of Sochi is still today ruled by the breakaway authorities, more than two decades after the brutal war, but most of the world's countries – except Russia, Venezuela, Nicaragua and Nauru – consider it a constituent part of Georgia.
Tamar Beruchashvili, Georgia's ambassador to the UK, became aware of the monument through the internet and persuaded Scottish authorities to 'handle' the issue during her visit to Scotland a month ago, news agency IPN reports.
"They fully accepted the information provided and agreed with the approach by the British state regarding Georgia's territorial integrity and sovereignty. And the local council decided to dismantle this monument a few days ago," Beruchashvili said.
The monument to Sokhumi's war victims was erected some time between 1993 and 1996; the exact date is not known even to the local authorities of the city of Kilmarnock, as the local council representatives have changed.
Kilmarnock is Sokhumi's twin town. There is a Sokhumi Street in Kilmarnock and a Scotland Street in Sokhumi.
The breakaway authorities in Abkhazia are vigorous supporters of Scotland's independence, as well as the secession of Catalonia and the Basque region from Spain, as they believe it would create leverage to bring them out of their international isolation. Therefore Abkhaz separatists were anxiously observing the Scottish independence referendum in September, 2014 expecting that it might legitimize their own independence referendum in 1999.
Abkhazia is one of three autonomous regions of Georgia that broke away in the early 1990s, the other two being South Ossetia and Adjara. Adjara was reintegrated in 2004 ,while the other two remain as unsolved disputes between the West and Russia. Over two hundred thousand Georgians were ethnically cleansed during the Abkhazian war in 1992-93, bringing the number of remaining Georgians there down to about a half of pre-war levels.