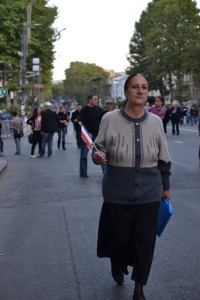 French president Nicolas Sarkozy told Georgians Friday that the country must strengthen democracy through further reforms if it wants to move closer to EU membership.
A few thousand people were in or around Freedom Square in the center of Tbilisi while Sarkozy held his speech this afternoon but many seemed uninterested and left before he even took the stage.
"Continuing to develop a strategy for developing reforms is your best tool for convincing the EU that Georgia is a European country," the French leader said.
"Internal reform and a strategy of openness is the best chance to convince the populations of Abkhazia and South Ossetia that their future is as a companion at Georgia's side, in an open country, not as isolated and enslaved pseudo-states," he said.
In the speech, Sarkozy reaffirmed France's support for Georgia's territorial integrity and right to seek membership in Nato.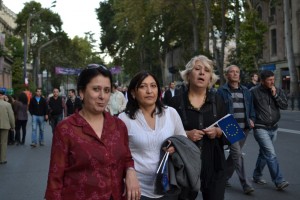 His call on Georgia and Russia to reconcile was met with silence from the crowd.
Sarkozy is struggling in the polls ahead of France's presidential election next spring. His Caucasus tour is seen as an attempt to cash in on past success and portray himself as a great statesman by refreshing Frenchmen's memory of how he brokered a seize-fire agreement in 2008 and brought a stop to the five day war between Georgia and Russia.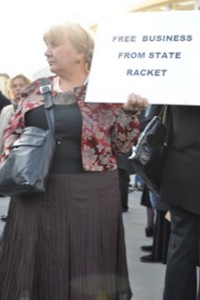 Many people had been brought in by bus from Poti and other cities, their expenses covered. Maestro TV showed that many were unwilling to talk about why they were there. Many left before Sarkozy came, or stayed in the nearby streets, close enough to seem to be attending, but without following events on stage.
At the Philharmonic hall, three hundred mostly from the opposition parties held a brief demonstration against what they saw as Sarkozy's support for a regime without legitimacy. They carried placards reading "Misha = back to USSR" and "Stop the clans that rule over Georgia".
Gocha, a man in his mid fifties said he was not involved in politics, but came there show his resistance against the Saakashvili regime.
"This reason we protest is because when some important people come here, they make a show, as if all people are supporters of the government. But some people aren't afraid of the government, and we like to show it."
"But many are afraid. They think that if you don't support the government, you can't get a job. And if you are member of an opposition party you may go to prison and other things."
(Source: Pirveli, Bloomberg. Thumbnail image's copyright is held by World Economic Forum. swiss-image.ch/Photo by Moritz Hager)