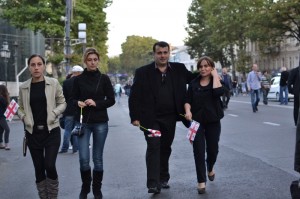 President Nicolas Sarkozy finally arrived in Tbilisi Friday from Baku. It was the final stop on his tour of the South Caucasus.
Security was tight around Freedom Square. People who wanted to attend the event had to arrive two hours earlier.
The square had been decorated with French, Georgian and EU flags for the occasion. In the afternoon, Sarkozy made an outdoor speech just after President Saakashvili had addressed people who were gathered inside the cordoned-off area.
The crowd had been growing since noon and counted a few thousand. Some came in a coloumn of yellow buses driving down Rustaveli Avenue. The buses were bringing people from faraway regions of Georgia, as well as various districts of the capital.
Maestro TV reported that the crowds were bussed in from as far away as Poti, a city on the Black Sea coast. They had all expenses paid, and the operation seemed well planned. TV footage showed organizers hushing them onto the buses, working by name lists.
"Look what they've made us do. I was not meant to be here now, today. I work in metro station in Gldani," a man in his late 20s who refused to say his name told DFWatch. "They forced us to come here today and attend this meeting," he added showing us his employee card proving he works for the Tbilisi metro system.
Each yellow bus had a leader who gave instructions to the people who came out of the bus. "It was supposed to be 20 of you. Five are missing, why are they missing?" one of the leaders was yelling at a group of people who had been brought in from the Gldani district in northern Tbilisi.
It emerged that people were supposed to come to Freedom Square according to pre-complied lists of names.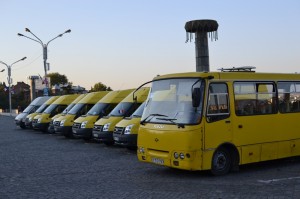 "We were instructed to come here today. We know an exact place where our group is supposed to stand," a 40-something woman who works as a teacher told us. She too refused to say her name. "We have to attend the whole meeting and then there will be a concert in the evening. The same buses will take us back."
Organizers had put up fences with a few select entrances around the square. People were then filtered through several layers of barricades, and police went through each person's belongings as they entered the square. They were not allowed to have cameras, bottles and sharp objects inside.
In his speech, Nicolas Sarkozy reaffirmed his support for Georgia. "I would like to solemnly reaffirm French and European support for the sovereignty, independence and territorial integrity of Georgia," Mr Sarkozy said, recalling the war in 2008 between Russia and Georgia, which he helped bring to an end.
"Three years have passed and frankly I am happy because I can appeal to an independent nation and independent people," Sarkozy said. "Although the fire was stopped but the wounds from war, deaths and suffering are not healed."
Regarding Georgia's two breakaway regions Abkhazia and South Ossethia he had this message: "Abkhazian and South Ossethian people must be sure that their future is next to Georgian fellows and not with enslaved and pseudo states," adding that internal reform and a strategy of opening up is the best way to achieve this aim.
Then he made an appeal for reconciliation and confidence building between Georgia and Russia.
"Partners and Friends – that's what Georgia and Russia have to become. In order to build confidence, it is necessary to end the campaign of intimidation, threats and destabilization attempts, since it is absolutely unacceptable."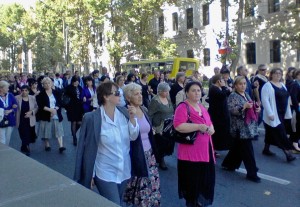 The French president first visited Georgia on August 12, 2008, after negotiating the terms of a seize-fire agreement with Russia. In September the same year he again returned to Georgia after having been in Russia to clarify provisions made on August 8 about ceasefire agreement.
Sarkozy arrived in Tbilisi Friday 17:00, together with Eric Besson, the French minister of Industry and Energy, Henry De Raincourt, Minister of Cooperation, Thierry Mariani, Minister of Transport and Pierre Lellouche, Secretary of State.