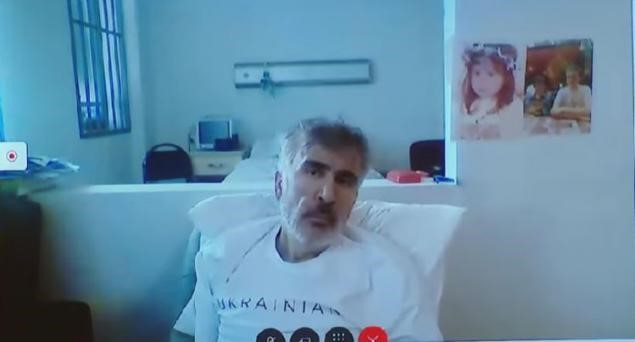 Mikheil Saakashvili's health condition has worsened and if the current trend continues, irreversible processes will start in 1-2 months, states the Council of Doctors set by the Public Defender.
"The patient has entered the phase of active catabolism," reads the document released by the Office of Public Defender of Georgia Monday based on the visit and examination of Saakashvili on February 19.
"After losing another 5-7 kilograms, he will become bedridden, because his lower limbs will be completely wasted and he will not be able to move due to weakness. If losing weight at this pace, it is expected to reach the above point in 1-2 months. The critical weight for him is 52-53 kilograms, after which irreversible changes will begin in the body."
On the basis of objective examination the council has concluded that "severe sarcopenia is evident."
"The patient lost another 5.7 kilograms due to significant muscular dystrophy. Movement is significantly limited due to weakness. When standing up, there is a sharp drop in blood pressure from 125/75 to 60/40, which is accompanied by loss of balance and significant loss of coordination. Further decline in mental functions is worth noting," the document reads.
"Peripheral and autonomic neuropathy has deepened, which causes a critical pressure drop when standing up. Currently, unsupervised movement by the patient is dangerous, as the risks of falling down, sustaining body injuries/fractures is very high. In case of the latter, the resource of the cachexic body to heal the wound or fracture is very low, which will lead to the cascading development of other critical complications (hemorrhage, infection, deep vein thrombosis, etc.) with a high probability of lethal outcome," the doctors' council concludes.
Meanwhile, the pressure on Georgian government increases. On Monday, The EU Ambassador to Georgia Pawel Herczynski presented the government of Georgia with a letter signed by every EU country demanding Saakashvili to be transferred to Poland for treatment.