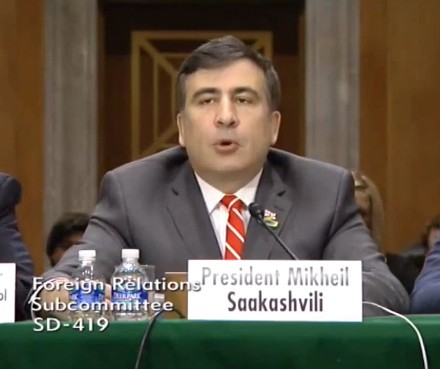 TBILISI, DFWatch–Former Georgian President Mikheil Saakashvili says he doesn't plan to leave Ukraine, where he serves as governor of the Odessa region, no matter what the results of today's parliament election is.
"I won't abandon my huge plans to help Ukraine," he told Newsone.
Some people expect that if the National Movement wins, Saakashvili will leave Ukraine, he noted.
'However, I never ran away from the battlefield. For me this is a fight for reforms, for people."
Saakashvili told the television channel Ukraine 112 that he will follow the election and when the result is clear he will make decision whether to go back to Georgia. But if he does go back, he won't stay.
Georgian Dream party secretary Irakli Kobakhidze said at a briefing that it seems Saakashvili has 'already given up'.
"It is very interesting that Mr Saakashvili already gave up on Election Day. This shows a vivid picture today in Georgia, everyone can see those attitudes and these attitudes will be reflected in the results published by the Central Election Commission," he said.