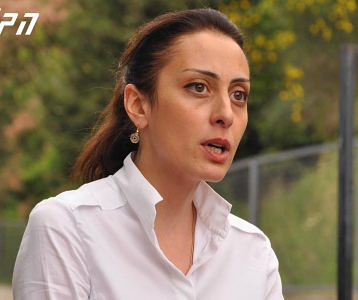 Tbilisi, DFWatch – Ukraine's National Police Chief Khatia Dekanoidze who was in charge of police reform in the country stepped down on Monday just in a week after resignation of her compatriot and ally, Odessa governor Mikheil Saakashvili.
"I'll be frank and say that we have failed to root out corruption in our (law enforcement) bodies," Dekanoidze, 39, was quoted by Kyiv Post. "…Unfortunately my authority and will were not enough for radical change. My function has been accomplished, and that's why I'm resigning."
Dekanoidze emphasized that during her tenure she faced number of attempts by politicians to meddle in the work of police.
"Appointments in law enforcement agencies must not be negotiated with politicians," she said adding that it is absolutely necessary to reform prosecution and justice systems.
Dekanoidze's resignation was preceded by the same steps of other members of Georgian reformers who moved to Ukraine from Georgia after Mikheil Saakashvili ceded power to his rival, Bidzina Ivanishvili. These include ex-Deputy Interior Minister Ekaterina Zguladze-Glucksmann, Grigol Grigalashvili, ex-head of the National Police's internal security department, and Odessa Oblast Police Chief Giorgi (Gia) Lortkipanidze.
Yulia Marushevska, the head of Odessa Oblast customs and another significant Saakashvili ally, resigned on Monday. Marushevska was Euromaidan activist and has headed the region's customs since October 2015.