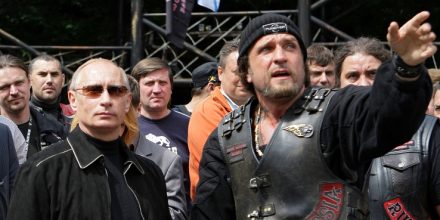 TBILISI, DFWatch–The Russian biker gang Night Wolves plans to visit Georgia to commemorate the 72nd anniversary of the end of World War II.
The gang is known for its support of the Kremlin and leader Alexander Zaldostanov ("the Surgeon") has appeared at many public events next to Russian President Vladimir Putin.
Some of the over 5,000 members regularly go abroad in connection with May 9, which is the anniversary of victory on the Eastern front in WWII. Their trips often end in confrontations.
It still uncertain whether the Russian bikers will come to Georgia this time. It depends on whether the Georgian police can guarantee their safety, Irakli Kipiani, a pro-Kremlin Georgian non-governmental organization called Union of Russian and Georgian Youth told the newspaper Rezonansi.
It was Kipiani's NGO which invited the motorcycle gang to Georgia. He told the newspaper that they are expecting provocations by supporters of the United National Movement.
The police will oversee the visit and respond adequately, Deputy Minister of Interior Shalva Khutsishvili said.
Altogether, 30-35 bikers are expected and their trip will include paying tribute to Georgians fallen in the war, visit to monuments dedicated to WW2 and meeting with war veterans.
In 2015, the group was barred by Poland from travelling to Berlin through its territory, while Germany revoked their Schengen visas. Several members were deported. However, some of them managed to get in.
Some of the bikers have been reported to have taken part in the war in eastern Ukraine and a sabotage action in Crimea.
The United States and other countries have included Night Wolves in their sanctions against Russia.
A handful from the motorcycle gang visited Georgia in 2015, when they clashed with members members of Tavisupali Zona ("Free Zone"), a youth group affiliated to the UNM.
Alexander Zaldostanov is rumored to have Georgian ancestry as his last name resembles Georgian noble name of Zaldastanishvili, though he's never spoken about this