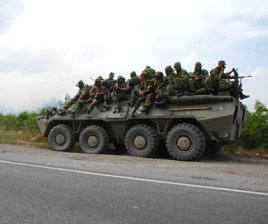 TBILISI, DFWatch–Russia began a military exercise in Georgia's breakaway region South Ossetia on Monday, which will involve 5,000 soldiers, rockets and artillery.
The pro-government news agency RES reports that the exercise is taking place at seven different training grounds.
The theme of the tactical exercise is reconnaissance behind enemy lines, RES writes.
The soldiers taking part come from North Caucasus and South Ossetia itself.
The exercise will end on September 16.